We are a research team at the University of Genoa as part of the Dibris department (Computer Science and Technology, Bioengineering, Robotics and Systems Engineering).
Director Prof. Gianni Vercelli
Permanent Researchers
Coordinator                   Dott. Giorgio Rinolfi
Civil aviation expert      Dott. Lorenzo Marcenaro
COMPUTER ENGINEERS:
Dr. Jacopo Revello
"The problem of search and rescue with drone: coordination and stereoscopic FPV of drones' squads in BLOS situation"
Dr. Amila Uhanowitage
"The problem of SAR with drones: mission partitioning and coordination in a multi-UAV system for environmental monitoring and finding missing people"
Dr. Fabio Vannucci
"Safe handover and relay chain problem in EVLOS condition for a single UAV and multiple pilots"
Aero Lab is dedicated to the research on UAV technology since 2010. Our development is based on the open source project Arducopter.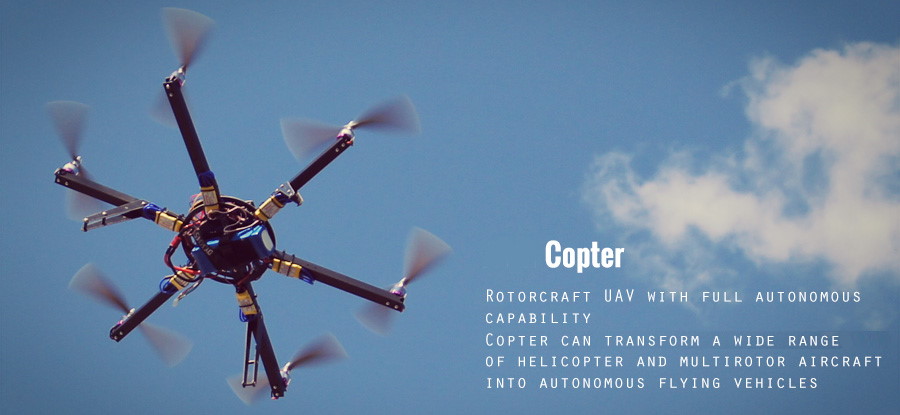 | | | |
| --- | --- | --- |
| This is the full-featured, open-source multicopter UAV controller that won the Sparkfun 2013 and 2014 Autonomous Vehicle Competition (dominating with the top five spots). A team of developers from around the globe are constantly improving and refining the performance and capabilities of Copter. | | Copter is capable of the full range of flight requirements from fast paced FPV racing to smooth aerial photography to fully autonomous complex missions which can be programmed through one of 4 elegant and well-developed software ground stations. The entire package is designed to be safe, feature rich, open-ended for custom applications and increasingly easy to use even for novice users. |

Selection panel for avaible firmware in Mission Planner ground
We particularly focus on Multirotors or the Multicopters platform.
Utilize differential thrust management of independent motor-prop units to provide lift and directional control
Benefit from mechanical simplicity and design flexibility
Offer a capable payload lifter that is functional in strong wind conditions
Redundant lift sources can give increased margin of safety
Varied form factor allows convenient options for payload mounting.
Because of its open design, Copter also supports more unusual frame types including the Single and Coax-Copters. Put together with Plane, Rover and Antenna Tracker, you have a system of robotic vehicles that can be controlled through very similar interfaces to accomplish a wide variety of tasks.
Science of Communication is one of the components at Campus di Savona, we start to investigate drones for aerial filming and photography.
For the opening ceremony for the academic years 2014-2015, University of Genoa commissioned the first aerial video completely made of aerial shooting to Aero Lab.
Behind the scenes video by Wonderland Production
For the hardware part we used the results of the only Italian drone development based on OpenSource: VirtualRobotix Italia.
Project CivilFinDroneS "CiviliansFinding system based on Drones Squads of Civil Protection Teams"
a.k.a. Progetto "Squadra Droni ANA – Prot. Civile"
Abstract
In 2014, the ANA-PC (Italian Alpines National Association – Department of Civil Protection) signed an agreement with DIBRIS – University of Genoa to realize together an ambitious, socially very relevant project:
To setup a Civilians Finding system based on Drones Squads of Civil Protection Teams, in charge to address both the SAR (Search and Rescue) problem and the real-time monitoring of rural and urban areas during critical events,
to foster the disaster resilience of the population involved in such dramatic events.
The natural catastrophes such as landslides are an actual problem for a large portion of Italy and EU, with a dramatic evidence in the latest times, both in urban as well as rural and alpine areas (Genoa floods, Emilia earthquakes, Sardinia fires, landslides, etc.). The number of missing people both, in rural and urban areas, represents a social emergence with a relevant impact to Civil Protection bodies involved (government representatives, local bodies, ANA and Red-Cross and non-profit associations volunteers, firemans, policemens, forestry guardians, Armed Forces, etc.).
First of all, responsiveness and on-time readiness in cases of emergency save lives, while ICT-based communication and organization increase disaster resilience of the population.
Search and Rescue operations can greatly benefit from the use of current "drones", namely UAVs (Unmanned Aerial Vehicles), to survey the environment and collect evidence on the location of missing persons.
The aim of the project is to address the problem from both the regulatory framework and the 2020 technological perspective (is this a specific political agenda? Then I would name it so) helping involved organisations, facilitating communications and real-time monitoring for Civil Protection decision makers, supporting the set-up, organisation and control of "Drone Squads " composed (lead by?) by trained, ad-hoc volunteers and professionals.
Full PDF: " Project CivilFindDrones – Civil Protection Search&Rescue Drone Team – eng version "
As a university lab our competence is the validation of methods, of technological prototypes and to discuss and design the applications and implications it will have for our needs.
Assuming that UAV technologies are not readily designed for research purposes, building specific UAVs is a key necessity.
In times of a growing presence of technology in political, labour and private contexts, the question of machine autonomy is highly ambivalent. We delegate work to increasingly autonomous robots and, at the same time, fear the loss of control. We understood that technology, as a device of political, commercial and communicative power, is never neutral. In the face of such developments, it is ever more crucial to negotiate on how to design the modality of our collaboration with the machine, in production, in politics and every day life.
In our research projects, the drone, one of the most ambivalently discussed technological objects of our times, will be investigated as a collaborator in the accomplishment of specific public tasks. While, nowadays, international multirotor research groups have already acquired the drone as an efficient tool, we will have to renegotiate the role of the drone in interaction with humans – in all its opportunities and socio-political implications.
Italiano
I mezzi aerei a pilotaggio remoto, detti SAPR o UAV, ma comunemente noti come droni, sono aeromobili caratterizzati dall'assenza di un equipaggio a bordo. Il loro volo è governato da diverse tipologie di flight control system, gestiti in remoto da piloti a terra. L'interesse per l'impiego di questi aeromobili negli ultimi tempi sta crescendo esponenzialmente in diverse attività per le potenzialità di impiego che si intravedono quali, ad esempio, sorveglianza del territorio, rilevamento delle condizioni ambientali, trasmissione dati, riprese aeree, impieghi agricoli, compiti di ordine pubblico.
I progetti che vorremmo portare avanti sono legati principalmente a due ambiti: quello creativo legato alla valorizzazione del patrimonio culturale, ambientale, artistico e paesaggistico tramite riprese aeree non convenzionali, ed uno più tecnico, concernente l'analisi del territorio grazie a termocamere e sensori di vario tipo per la realizzazione di modelli 3D, curve di livello, mappe DEM,  a scopo di monitoraggio e videoispezione.